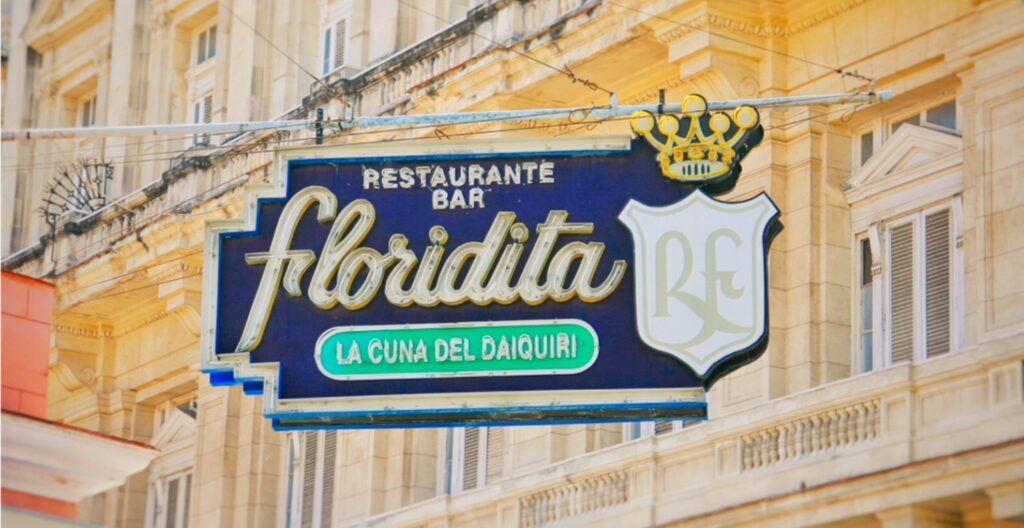 "My mojito in the Bodeguita del Medio and my daiquiri in the Floridita." These are the words left by Hemingway himself on a signed quote still hanging on the wall of La Bodeguita del Medio in Havana, Cuba. "Papa", as he was often called, had a long-lasting love affair with Cuba and he made sure the world would know it. His love for Cuba outlives in his writings through the voice of his characters. Daiquiri and Mojito were just two of the many things he loved about Cuba.
Hemingway was a notorious boozer just as he was womaniser, fighter and hunter. The legend goes as far as saying that Hemingway outfished, outhunted and outdrank most of his contemporaries.
In order to write about life, you must live it first.
Hemingway preferred to be drunk—"not drunk in any positive sense but just enough to be careless". He drank, he wrote, he sobered up and edited, then drank again.
We are all apprentices in a craft where no one ever becomes a master.
Papa embraced what he called "the fiesta concept of life". He was always seeking excitement and adventure. Always looking to have a "hell of a good time", he had the guts to live his life as he pleased. Hemingway's close friend, A. E. Hotchner witnessed it all:
I suppose the most remarkable thing about Ernest is that he has found time to do the things most men only dream about. He has had the courage, the initiative, the time, the enjoyment to travel, to digest it all, to write, to create it, in a sense. — A. E. Hotchner
Hemingway's affair with drinking & writing
Hemigway was one people would call an Olympian drinker and he never claimed anything else. He liked his Martinis dry, his Mojitos sweet and his Daiquiri sugarless. Yet, beer, champagne
Papa had a passion for drinking and no one did more to play up the heroic magnitude of the writer's drinking than Hemingway himself. He was a firm believer that drinking in the local bars is the best way to know the people.
Don't bother with churches, government buildings or city squares, if you want to know about a culture, spend a night in its bars.
Despite being a heavy boozer and loving hanging out late, Hemingway had an amazing capability to wake up early and write. When looking at the daily at artists' alcohol drinking habits, Mason Currey found that while many artists did drink a great deal, very few mixed alcohols with their working hours.
Hemingway was similarly also adept at balancing late-night drinking with early-morning work. Currey quotes Hemingway' son, Gregory, who recalled that the author seemed immune to hangovers:
"My father would always look great, as if he'd slept a baby's sleep in a soundproof room with his eyes covered by black patches."
It seems all artists need to depart from their own work for a few hours and for some of them, including Hemingway, alcohol was a reliable escape.
El Floridita's Famous Guest List
When you work hard all day with your head and know you must work again the next day what else can change your ideas and make them run on a different plane like whisky?"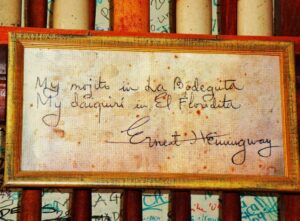 The big man has taken seriously his own advice and whenever someone made a trip to Havana to be introduced to him, Hemingway would meet him at La Florida bar, affectionately known as the "El Floridita." It's here also where he got his inspiration and got to know Cubans. This is the place where he celebrated his third marriage with Martha Ellis Gelhorn, the American journalist considered one of the greatest war correspondents of the 20th century.
It is Hemingway's Daiquiri and written stories that turned El Floridita in one of the most well-known bars in the world. Referring to his preferred sugarless Papa Doble Daiquiri, Hemingway once said:
This frozen daiquiri, so well beaten as it is, looks like the sea where the wave falls away from the bow of a ship when she is doing thirty knots.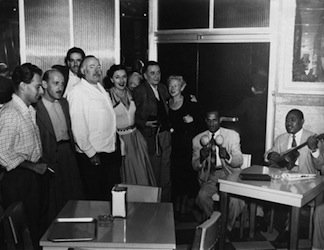 On a usual afternoon at Floridita, Hemingway had an average of 6 Papa Doble Daiquiri. He reportedly sometimes downed up to 12 Papa Dobles in one sitting. It was rumoured that later in his life Hemingway drank a quart of whiskey a day.
In 1953, Esquire magazine called Floridita one the world's seven best bars, along with, the Pied Piper Bar in San Francisco, the Ritz in Paris and London, Raffles in Singapore, Club 21 in New York and the bar at the Shelbourne Hotel in Dublin.
From "La Piña de Plata" to "El Floridita"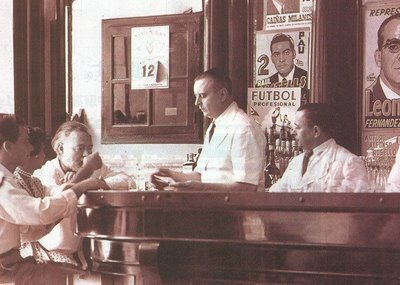 Opened in 1817 under the name La Piña de Plata (The Silver Pineapple), this historic fish restaurant and cocktail bar situated bar in La Habana Vieja (The Old Havana), El Floridita lies at the end of Calle Obispo (Bishop Street).
It's not far away from Museo Nacional de Bellas Artes de La Habana (The National Museum of Fine Arts of Havana) and Hotel Ambos Mundos where Hemingway maintained a room from 1932–1939.
Almost 100 years since its opening, the establishment changed its name to "El Florida", but with time it became popularly known as "El Floridita". This is the name under which it became one of the favourite hangouts of Ernest Hemingway in Havana.
In 1914, Constantino, nicknamed Constante, a Catalan immigrant Constantino Ribalaigua Vert, started working in the bar as cantinero (bartender). Four years later, Constante became the owner in 1918. According to cocktail historian and author Jeff "Beachbum" Berry, Constante was known as "El Rey de los Coteleros" (The Cocktail King) and reportedly squeezed 80 million limes and poured 10 million daiquiris in his lifetime.
Constante was a major influence on Trader Vic and other tropical drink pioneers of the era, creating variations of the daiquiri, which is believed to have been invented in the early 1900s in Cuba. "By the 1930s, he had turned it into an art form."
Constante's El Floridita – "la cuna del daiquiri"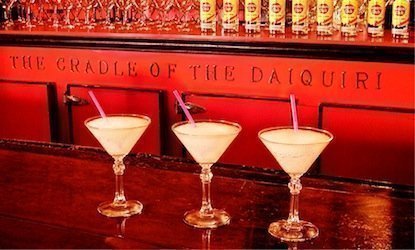 It took Constante few years and a lot of passion poured into his numerous creations (Presidente, Habana Special and many more) to turn El Floridita into Havana's cathedral of cocktails.
Although the story goes that the Daiquiri was invented in Cuba in or around 1898, in the town of Daiquiri, by an American mine supervisor named Jennings Cox, it is Constante who is today credited for inventing the frozen daiquiri in the early 1930s.
There were several types of daiquiri Constante and his cantineros used to prepare for Floridita's visitors, so it's no surprise the establishment became known as "la cuna del daiquiri" (the cradle of the daiquiri).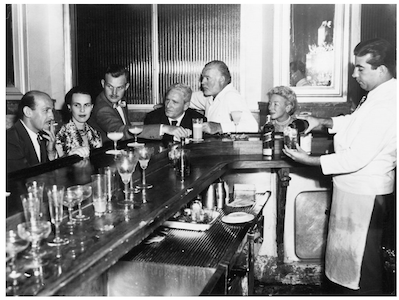 With Papa & Constante there, it's no wonder writers like Ezra Pound, John Dos Passos, Graham Greene, Jean-Paul Sartre, Gabriel García Márquez or Tennessee Williams stopped at least one time at El Floridita to enjoy Hemingway's daiquiri.
When walking today through the doors of Floridita, one cannot help notice the many pictures of famous people hanging on the walls, as well as the life-size bronze statue at the end of the bar, sculpted by the Cuban artist José Villa Soberón.
Daiquiri and live music @ Floridita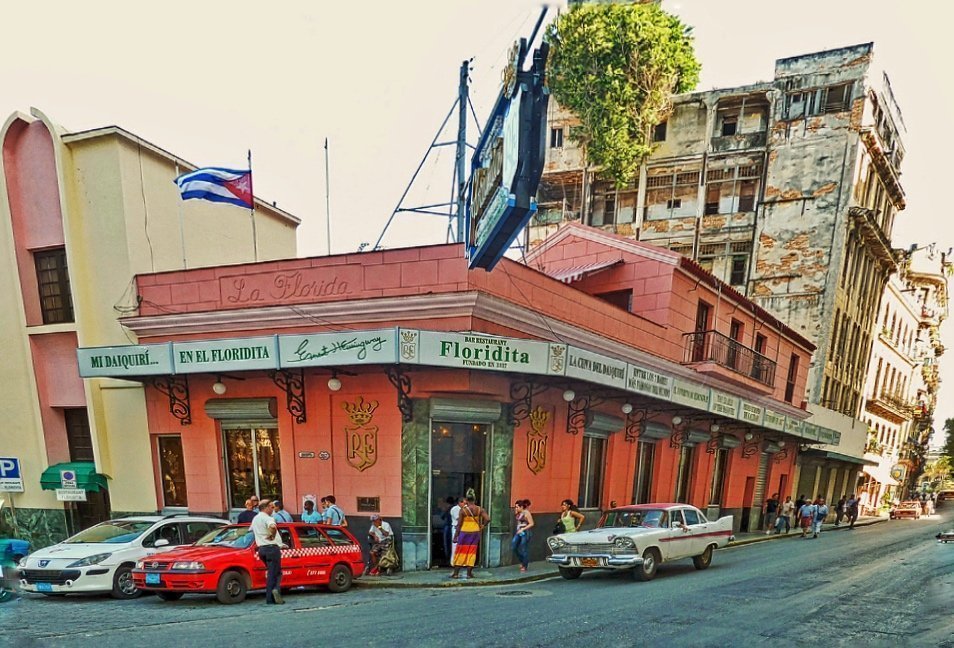 Despite the passing years, Floridita miraculously preserved much of the 40's and 50's. I guess this does not have to do only the with the red coats of the bartenders matching the Regency style decoration that dates from the '50s. It has to do with the long original 10-meter long mahogany bar that still dominates the main room. It also has to do with the same Corinthian friezes the carpentry work, lamps and the paintings on the walls. In 1991 El Floridita was totally remodelled, respecting all the original elements.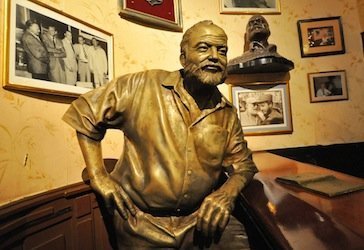 Tourists and locals entering Floridita's door today can also enjoy the delicious seafood served in the restaurant area. There are also many Mediterranean dishes you can try out! And, I do have to tell you that there's also live music. You can listen to some great Latino songs!
This establishment was frequented by many generations of Cuban and foreign intellectuals and celebrities from all parts of the world. In the old days, you could spot Spencer Tracy, Gary Cooper, Ava Gardner, Gary or Cooper zipping a daiquiri. Later on, to this least add Rocky Marciano, Harry Belafonte, Javier Sotomayor, Matt Dillion, Danny Glover, Jack Lemmon, Jack Nicholson or Jean Michel Jarre. And, of course, the fashion industry's celebs such as Paco Rabanne, Naomi Campbell, Kate Moss, Giorgio Armani,  and others. They all stopped at least one time at El Floridita to enjoy Hemingway's daiquiri.  Hope you will enjoy yours, too!