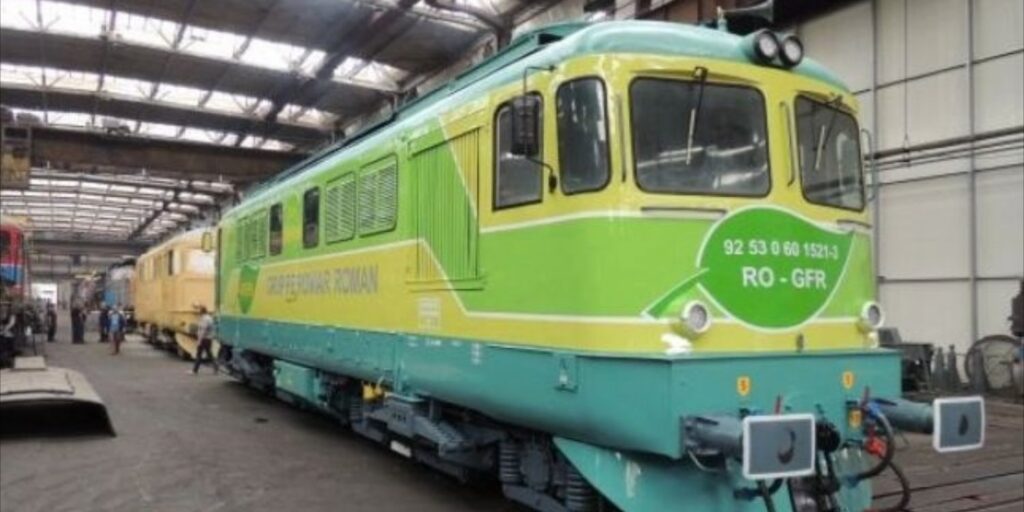 It took over a year for a team of engineers at Reloc-Electroputere VFU Craiova to build the first biodiesel (B100) or vegetal oil locomotive in Romania.
In a time when car manufacturers such as BMW and Volkswagen are faced with accusations of falsifying the reports regarding the exhaust emissions or fuel venting of their models, a team of Romanian engineers at Reloc-Electroputere VFU Craiova recently announced that they have successfully tested the first locomotive in Romanian running exclusively on pure biodiesel (B100) or vegetable oil.
The first Romanian locomotive running exclusively on biodiesel (B100) or vegetable oil. Source: Adevarul.ro
At least 50% less emissions
According to Calin Gratian, President of Reloc-Electroputere VFU Craiova, this revolutionary new locomotive is extremely friendly with the environment as it will not pollute it. "It does not contain sulphur and the emissions are 50% lower than those of classic diesel engines."
The engine, equivalent to a traditional diesel-powered engine in power and performance, but with much lower polluting emissions, was modified from one of the most widely used diesel engines in Romania, namely LDE 2100 CP. Over the years more than 2000 LDE 2100 CP have been produced in Romania.
Within the next months tests for the new engine will continue to monitor the performance during more difficult weather conditions. When finalized, mass production for the biodiesel engine will start.
Promising future for the Romanian biodiesel locomotive
Reaching a speed of  100km/hour, the representatives of Reloc-Electroputere VFU Craiova are convinced that the new locomotive has a great export potential.
"We know this is a unique product in the world. As far as we know, there's another similar project in Canada, but the size and amplitude of our project is much higher. there are major technical differences between the two projects," says Cezar Buica, one of the teams' engineers. "This project has been kept secret and only those working on it knew how the final product will look like."  
Electroputere VFU Craiova has a history of over 50 years of contributing and innovating for the Romanian infrastructure system.  This translates into more than 8000 designed, built, rebuilt, repaired or modernized locomotives, subways, trams and over 20 design patterns for creating innovative locomotives, trams or subways.
Due to a significant amount of investments, cooperation with prestigious companies from Switzerland, Sweden, France, Germany and Italy, and the efforts of many specialists, Electroputere VFU brand became known in over 10 countries on two continents.
In May 2015, Grampet Group, the biggest private railway holding from Central and South Eastern Europe and Caterpillar Inc., the biggest engine producer from the United States of America, and Electroputere VFU have established a strategic partnership for the construction and development of new locomotives. The collaboration of the two companies resulted in the launch of a new hydraulic diesel locomotive of 1260 HP (May 2015), produced by Electroputere VFU Craiova. It is the first the first diesel locomotive produced in Romania since the fall of the Ceausescu regime
Biodiesel engines testing
Biodiesel is technologically feasible for blending in diesel traction systems and although emissions of rail engines have been a major concern across the world, there have been few really successful projects such as the Romanian one.
According to Biofulestp.eu, there is relatively little experience with using biodiesel in railways.  A number of European rail operators such as French SNCF, German DB, Czech CD, Hungarian MAV have carried out bench and field trials on rail vehicle and engines.
In 2009, a five-month trial of biodiesel was undertaken in what Canadian Pacific claimed to be its first use with locomotives operating in the cold Canadian climate. Four GE Transportation AC4400 locomotives in dedicated service between Calgary and Edmonton are using a 5% biodiesel blend from November until the end of March 2010.
Amtrack 2015 – emissions of locomotive NC 1810 were measured en route from Raleigh to Charlotte. Source: NC State University
In spring 2015, Amtrack team led by Dr. H. Christopher Frey led a study to evaluate biodiesel for railroad applications. Over 400 hours of measurements were made during Amtrak passenger service between Raleigh and Charlotte. NC State University reported that:  "The biofuels were found to be effective in reducing emissions of hydrocarbon, carbon monoxide, and particulate matter air pollution, although there was some increase in emissions of nitrogen oxides. However, these fuels also reduce net carbon dioxide emissions. No adverse effects on locomotive operation were observed, and there was little difference in fuel cost. This new information will be helpful to rail operators in making decisions regarding possible adoption of biofuels."
Personal hope
"Environmental pollution is an incurable disease. It can only be prevented." Barry Commoner
There are people dreaming of leaving a healthier and cleaner environment to the next generations; each every little gesture they do to protect our planet contributes to a better future. We do see brands aware of their mission for the future and joining forces to address in any way they can issues such as pollution, environmental degradations or climate control. There are more or less successful attempt of regulating the market businesses operate in aiming to protect the environment… yes, there's so much more to be done, yet it's up to us. I'm not sure whether Commoner was right when claiming pollution is an incurable disease, yet there's one thing I'm sure of and that is hope dies last.