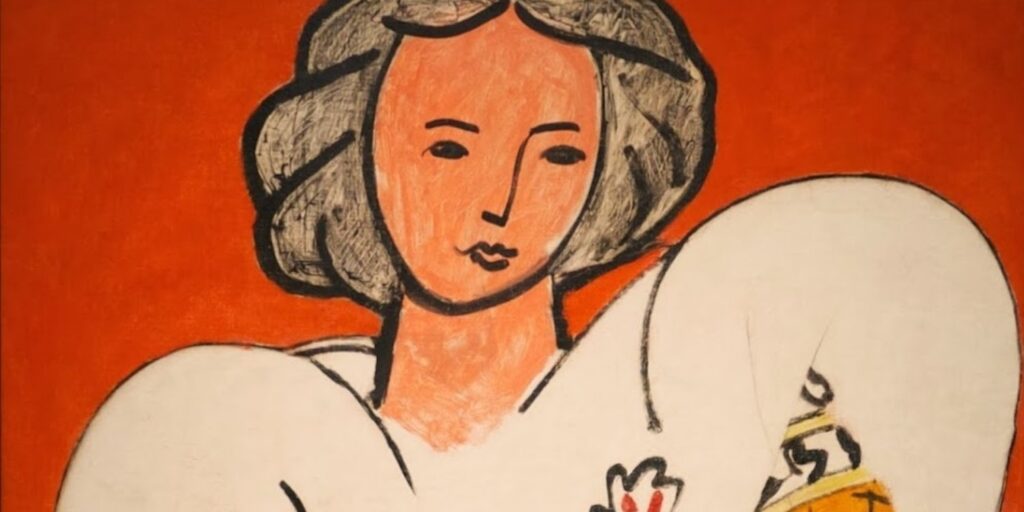 Henri Matisse and his La Blouse Roumaine painting are the subject of this new article dedicated to the beauty of the Romanian traditional blouse. When I wrote the first article about IA, little did I know what feedback I would get. So, here I am again with what I hope to be a nice story about colors, symbols and friendship. And you'll se why I mentioned the latter one!
La Blouse Roumaine … the best known Romanian IA
First of all, few know that French painter Henri Matisse was one of the first to capture the beauty of the Romanian traditional blouse simply called IE. Although he painted and draw many sketches of the Romanian IA, his painting called La Blouse Roumaine is the best known one. It's an oil-on-canvas painting dated 1940. It measures 92 × 73 cm and is held at the Musée National d'Art Moderne in Paris.
It took Matisse few years to show the world his Romanian paintings. There were hundreds trials and sketches before there was a Romanian blouses collection. There are plenty of Romanian symbols used in the traditional IA embroidery.
"Each work of art is a collection of signs invented during the picture's execution to suit the needs of their position. Taken out of the composition for which they were created, these signs have no further use." (Henri Matisse)
Henri Matisse, Theodor Pallady and the Romanian IA
Furthermore, even fewer know that Matisse's Romanian paintings were inspired by a collection of traditional blouses he received as a gift from Theodor Pallady. Pallady was and still is one of most famous Romanian painters of all times. Matisse had been friend with Pallady for many years when he got this gift. They met around 1892, in Paris, in Gustave Moreau's studio were they were working along with Georges Rouault and Albert Marquet.
Matisse's interest in oriental themes first emerged in the 1920s when he began to express an interest in the interplay of ornamental patterns. This fascination with decorative designs is seen in these works and it will remain with Matisse till the end of his life.
Noteworthy is that in 2012 New York Metropolitan Museum of Art opened "Matisse: In Search of True Painting." Vogue magazine called it "the eye-opening new exhibition".  The star painting of the exhibition was Matisse's voluptuous called "The Dream" (1940), another portrait of a woman sleeping and wearing a Romanian traditional blouse.
Falling in love with colors …
As one would expect from such a great artist as Matisse, his style evolved throughout time, yet he kept the traditional costume as a source of inspiration and ideas. I'm no art expert, but my feeling is that the generous color palette of the Romanian IAs had something to do with this. Matisse's own personal beliefs about the use of color are most noteworthy:
"Seek the strongest color effect possible… the content is of no importance.

"The use of expressive colors is felt to be one of the basic elements of the modern mentality, an historical necessity, beyond choice."
"A certain blue enters your soul. A certain red has an effect on your blood-pressure."

"Color helps to express light, not the physical phenomenon, but the only light that really exists, that in the artist's brain."

"Drawing is of the spirit; color is of the senses."
In conclusion …
Matisse and Pallady's friendship lasted a lifetime. What neither one of them imagined is that their admiration for our national blouse years later will make the Romanian IA a fashion icon. But, that's another story worth knowing! And if you want to know more about the Romanian IAs, you can check these two articles: Falling in Love with My Romanian IA and Wearing the Romanian IA on Wedding Day.
Finally, you can also check out on Facebook La Blouse Roumaine or follow on Twitter the stories published by La Blouse Roumaine, the first online community supporting IA, the symbol of the Romanian cultural identity.