The fact that the Romanian IA continues to be an is amazing source of inspiration for fashion designers all over the world is a fact. The Romanian IA – The Fashion Icon Designers Love is one article I wrote many years ago, but updated it recently. It honors those fashion designers who, continuing Henri Matisse's work, spread the word around the world about the beauty of the Romanian IA. Sadly, this new article about the Romanian folk costume tells a different story … about those fashion designers who forget to give credit and honor the Romanian local culture which inspired their collections. I am talking about Tom Ford, Tory Burch, Carolina Herrera, Valentino, Isabel Marant, Joseph Altazzura, Nili Lotan and others. 
Fashion designers who forget to give credit
One needs to understand that in the fashion industry, the use of local cultures symbols, patterns, cuts and so on is not something new. Some fashion designers acknowledged their source of inspiration. They gave credit to the local cultures, this way honoring generations of women who preserved these traditions. To be very clear, they adapted those elements in a manner fit for the contemporary women. It's not something they just copied and pasted. 
In the recent years, the online space talks about fashion industry's unfairness towards local cultures and cultural appropriation is a hot topic. If fashion houses like Gaultier or Valentino are great examples for crediting their source of inspiration, some of fashion designers did exactly that. They just took credit for something it was never theirs. Or, in other cases, as you'll see, they attributed to other cultures.  
Tom Ford's 2012 spring collection was one of the most well-kept secrets in the fashion industry. Critics and fashion lovers had to wait for 2 months before seeing a glimpse of the mesmerizing collection. There were lots of pencil skirts with tops, raffia, lace, beading, intricate embroidery, fringe, leather and sex appeal, but also many folk-inspired pieces. Spain, South America and Romania were the main sources of inspiration. 
Hamish Bowles, mentioned in his Vogue article dedicated to Ford's 2012 spring collection:
" (...) there was a thread of Pre-Raphaelite romanticism in embroidered peasant blouses (of the type Matisse loved to paint), and even frothy, Renaissance-sleeved dresses that evoked the work of the great sixties and seventies London designer Ossie Clark."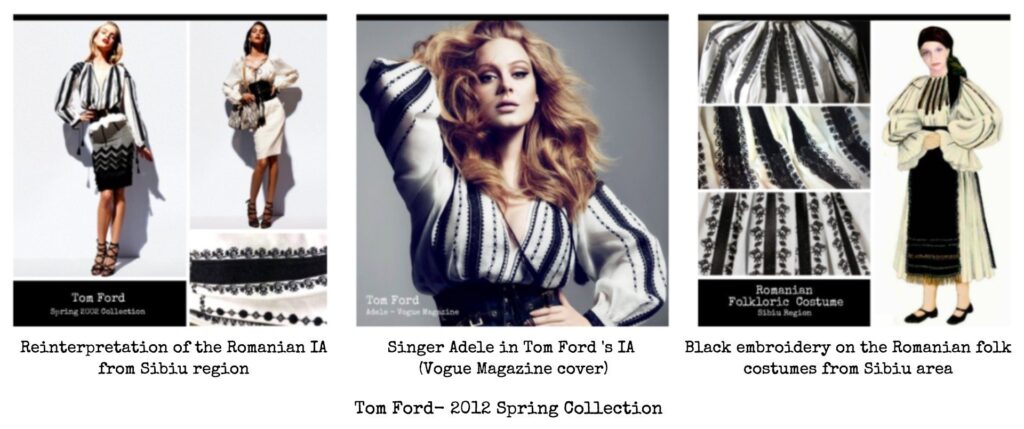 Singer Adele made Vogue magazine's cover photo (2012) wearing Tom Ford's outfit inspired by the Romanian IA from Sibiu area (Transilvania). What is representative for the peasant blouse of Sibiu is the harmony of the white and black colors; the thin and intricate embroidery is mostly done with black threads. In rare cases, it has some red, green, blue, golden or silver threads. 
In an interview with Laura Kathleen, Fashion Magazine, Tom Ford himself makes some kind of acknowledgment to Yves Saint Laurent's influence. 
"I've streamlined things more this season. I think I'm very classic, because what I do is always based on something you've seen before. And yes, maybe there's something YSL about it. When I left off designing for women, I was at YSL so I'm working through that to be me, asking myself, What do I like? What defines your brand?"
Carolina Herrera 2013 Spring/ Summer collection uses embroidery elements that look quite similar with those found on the Romanian folk blouse.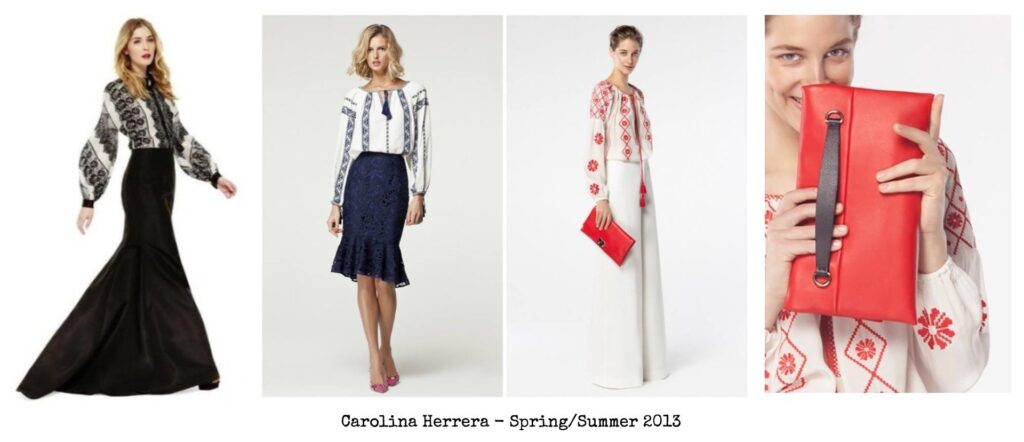 French-born, luxury women's ready-to-wear clothing designer Joseph Altuzzara, launched his brand, Altuzarra, in New York in 2008. The patterns from some of the pieces of Altuzzara's Pre-Spring 2014 collection are not similar or inspired, but quite identical! No personal touch, no real contribution of his own. The gallery below illustrates quite well, I would say, this resemblance. I was really happy to easily find great quality online resources documenting Romanian traditional embroidery. Ioana Corduneanu's Semne Cusute blog is just one of them.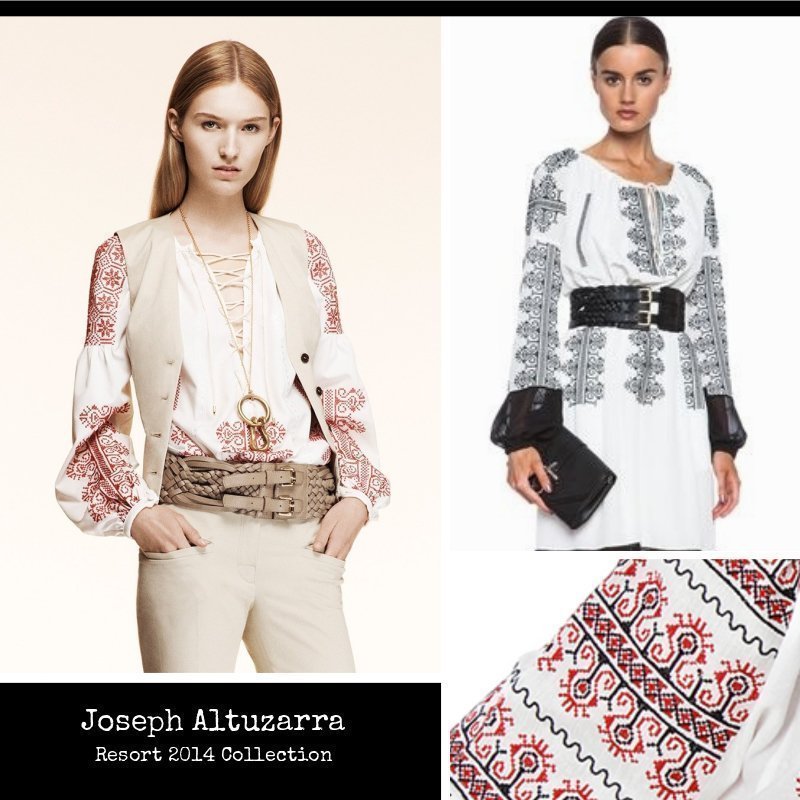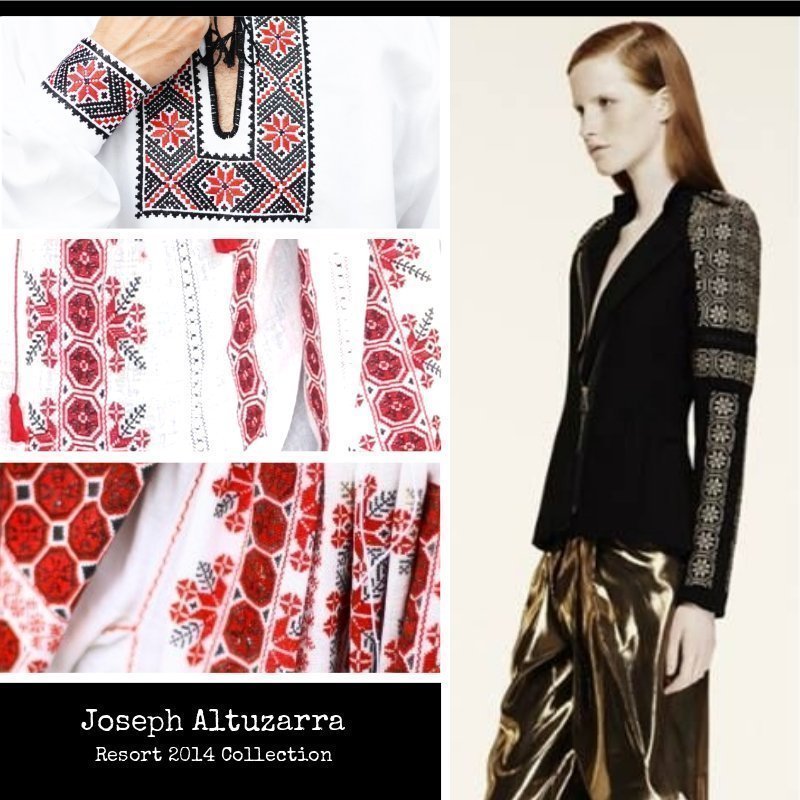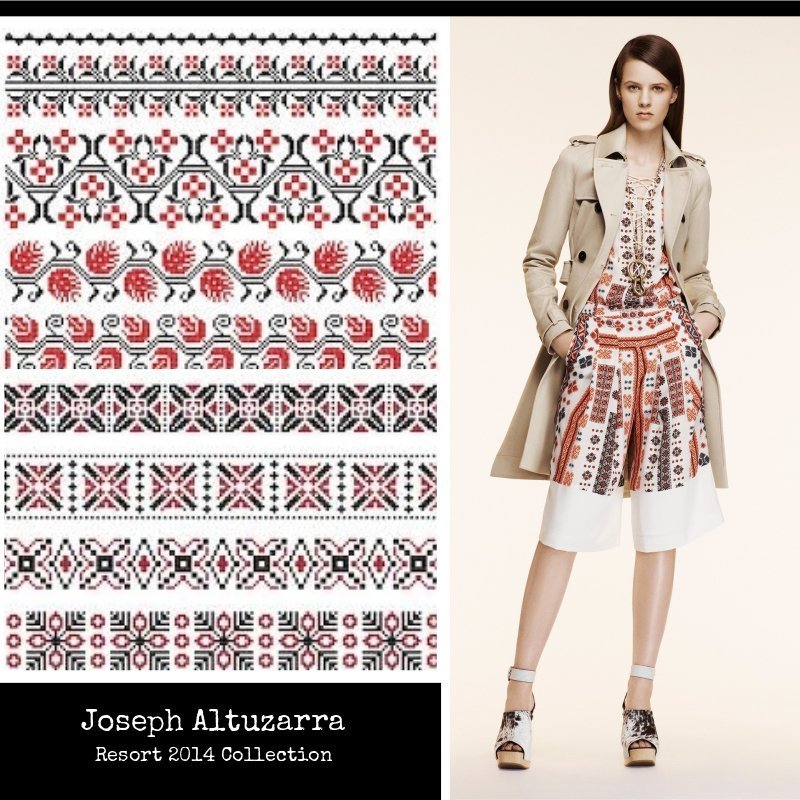 Yet, Altuzarra told Vogue magazine that this collection he designed this supremely elegant collection "in the heat of summer—in Greece" and the clothes certainly seemed ready to waft into an Aegean island wardrobe.
Don't get me wrong, Greek traditional embroidery is amazing, yet has nothing to do with Romanian tradition. You will never see a meander (aka meandrous), the so well-known Greek decorative motif on a Romanian IA. Oh, yes, I forgot, when it comes to marketing, Greece or Aegean Sea sound much better than Romania!
Peter Dundas injected a Sixties' vibe into his pretty Emilio Pucci 2015 resort collection. Inspiring and feminine at the same time! Yet, what caught my attention was once the incredible resemblance of certain patterns and motifs he used with the Romanian symbols of the hand-made embroidery from Muscel area. To see for yourself, I've put together some examples of such Romanian authentic embroidery next to Pucci's creations.

French fashion designer Isabel Marant, known for her bohemian aesthetic and fervently coveted creations, caught the attention of the public eye with her collection. What she failed to mention was the fact that some of her most representation pieces were inspired by the Romanian folkloric costume.     


Some of her pieces are identical with the modern folkloric blouses you can buy anywhere in Romania. The starting price s around Euro 50 for less embroidered IAs. For those handmade IAs that long sleeves and are almost entirely embroidered, the price can go up to Euro 250-300. In Marant's case, the retail price is USD410. If you loved it, definitely you should try finding some authentic IAs. There are plenty of online Romanian shops that sell and deliver them abroad!  
The Romanian "Suman" VS Burch copy-cat coat
Tory Burch 2018 Resort collection – when first made public, the American designer claimed it was inspired by Jacqueline Kennedy Onassis and Princess Elizabeth of Toro, an Ugandan lawyer, diplomat, model. If you want to dig for more, enjoy what Vogue Magazine had to say on this matter. Below the initial statement made by Tory Burch on her website. 
"We looked to two women: Jackie Kennedy Onassis and Princess Elizabeth of Toro, the stunning diplomat, lawyer and model who lived here, in New York, in the late Sixties. They both had a unique style — they epitomized elegance in simplicity and as consummate travelers, they had a cosmopolitan sense of ease and far-flung references…"
What you'll be reading next is the beginning of what today is known as #givecredit movement. I say "movement" and later you'll understand better why. Yet, a brief explanation would be that people and communities from all over the world joined around #givecredit campaign. Truth to be told, Romanians are not the only one facing such issues.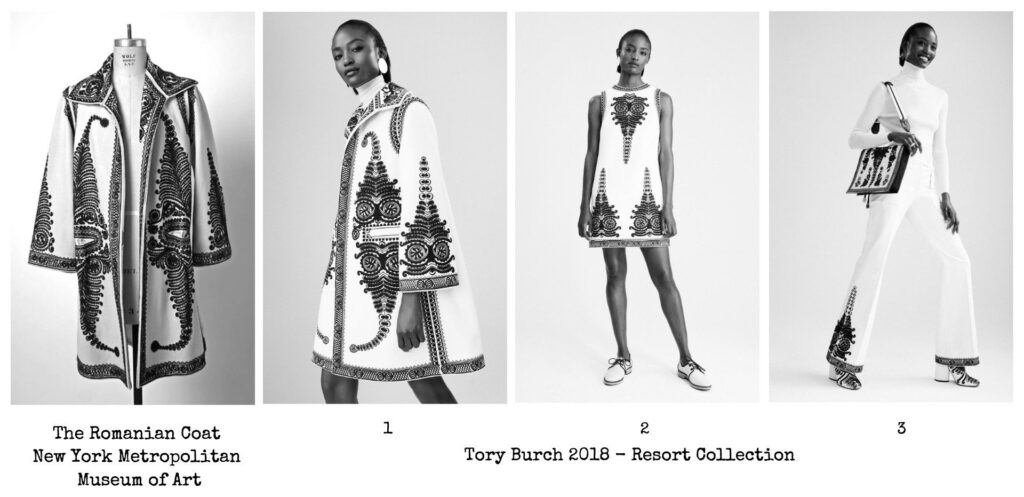 The Romanian coat (above) dates from the early 20th century and is credited as a 1981 gift of Christine Valmy. For those who do not know, Valmy was was born in Romania, but she made a great career in America as an esthetician, consultant and entrepreneur. She is known as a pioneer in the fields of skin care and esthetics and recognized by the United States Congress …
"for her contributions to education in America […and for] creating a new, exciting avenue of careers for the young people of America."
Suman - The Romanian autumn-winter coat
Suman is the name of this pieace of the Romanian traditional coat used by Tory Burch. The suman was wore (and still are) by both women and men in various regions of Romania, Gorj region being one of them.
As you know, the African continent is one of the hottest on Earth. The lowest temperature ever measured in Africa was −24 °C (−11 °F) at Ifrane, Morocco. That was on February 11, 1935!!! In Romania, during winter the average temperatures are between 3˚C and -15˚C. And it is not uncommon to go below −15 °C (5 °F) in the highest mountains. The lowest temperature was −38.5 °C (−37.3 °F), registered near Brașov in 1942. 
I truly doubt the African tribes need such winter coats! I am sure if they ever needed ones, they would have made and looked totally different.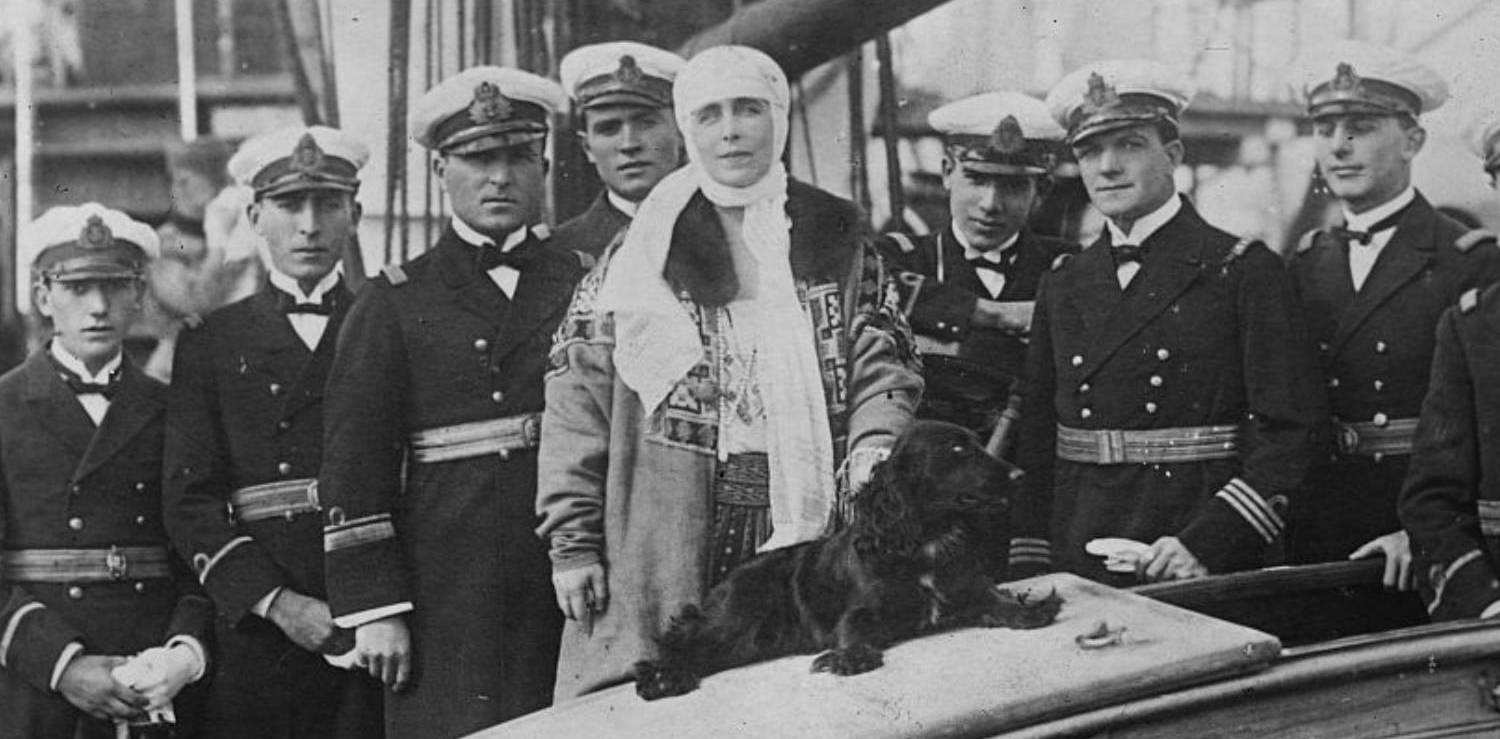 Way long before Yves Saint Laurent, Tom Ford, Dior, Tory Burch and other famous designers discover the beauty of the Romanian folk costume, there was an extraordinary woman who loved and promoted the suman. Her name was Queen Marie of Romania.
As claims must supported by evidence, I tried to find for you some of the oldest documented Romanian folk winter coats. What I thought to be just few sentences came out as a new article.  Therefore, I invitee you to read The Suman – A Romanian Folk Coat Fit for a Queen. I believe you will love the beautiful images and footage!
Going back to designers who do not #givecredit
The copy-cat "suman" she took credit for creating it got Romanians outraged. What happened then is a life lesson everyone working in creative industries – fashion, design, music, publishing, literature, architecture, film and video, crafts, visual arts, advertising, the performing arts, should learn from. Learn it well!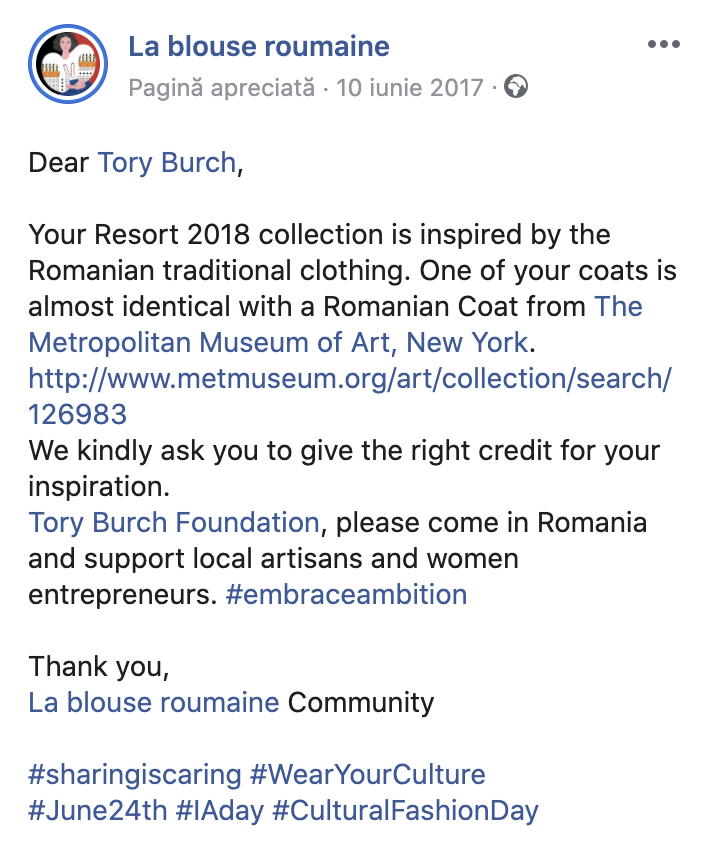 On June 10, 2013, after La Blouse Roumaine community asked Tory Burch to kindly #givecredit for the source of inspiration of one of the central pieces of Resort 2018 collection. Actually, there are few pieces, but the main one is just a copy-cate. 
So, wonder what happened next? Burch PR team got involved. First thing they did was to delete the offended Romanians' comments and even block them form posting further. 

That was not the smartest idea! Not only that's not the way to react during a PR crises. Theory already tells you that when you react this way, you risk making things worse than they already are. It may come as a surprise (for some), but this in part of the world, we also know how to take a screenshot!
Now, let's take a look at the other "smart" thing Tory Burch PR team did. The official public statement made on Facebook page. Personally, eve today I find it difficult to believe that there was not one single person in that PR team who did not raised a concern. But, let's see the statement! v
" Resort 2018 is about the unique friendship between two inspiring women, Jacqueline Kennedy Onassis and Princess Elizabeth of Toro. Both were style icons, global travelers, and art lovers. In our effort to summarize the collection, we missed a reference to a beautiful Romanian coat which inspired one of the pieces. Whether it's Romania, Uganda, or France, we are a brand that strives to celebrate, honor, and be inclusive of women from all countries and cultures, in the broadest way possible."
Again, I am not sure what Tory Burch PR team imagined or expected when publishing this post, but for sure and good reasons, Romanians were not happy with the answer. If put yourself in our shoes, you would feel the same. Here are just some the 781 replies they got. Trust me, when I say it was hard which one to pick to reflect the best Romanians' feelings.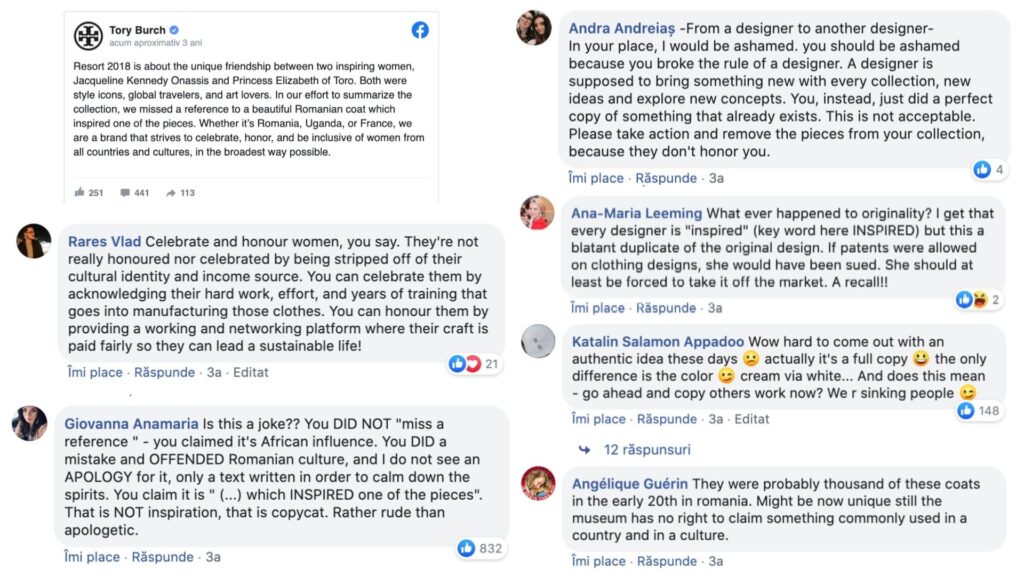 With such a lame and late excuse, you can imagine that things got bigger and bigger and I'll let you the pleasure to see some more … there's plenty of Romanian humor as well as irony!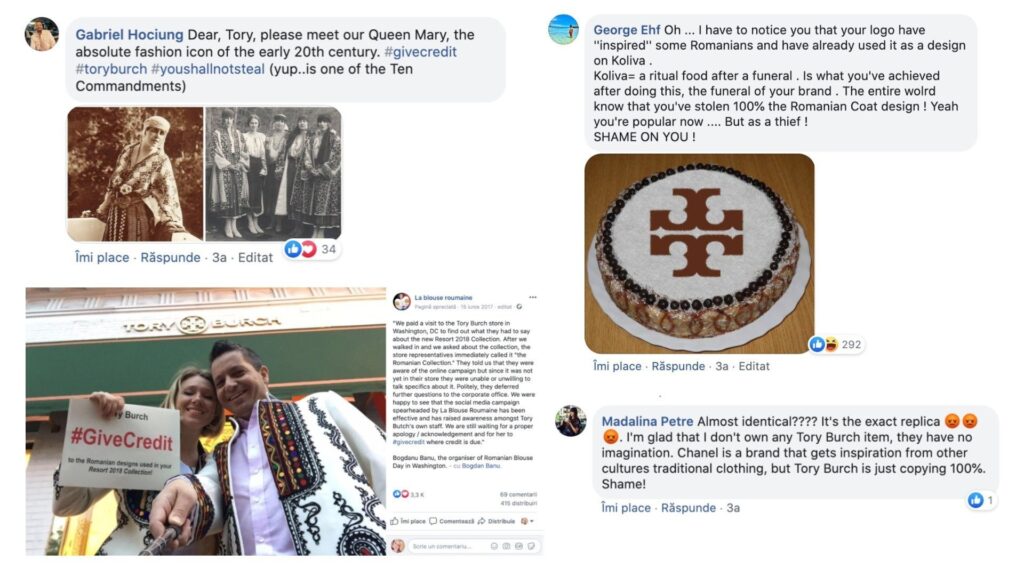 According to Andreea Tănăsescu, Founder of La Blouse Roumaine online community, the initial campaign post had over 23.000 de shares. In her IQads magazine interview, she mentioned that the overall campaign reached more than 3.500.000 million people.
No proper apology was ever presented to the Romanian people. I guess for any arrogant designer's ego this would be too much! Truth hurts, yet it can be healing!
Before letting you enjoy a great lesson advertising people got from David Ogilvy, there's one more thing I want to add. If you think that "the telenovela" or "the soap opera" about the designers who do not give credit ends here, you are mistaken. 
"The consumer is not a moron; she is your wife."
The new episode is coming soon! Dior VS Bihor!
During the researching process for this article, the following resources have been used for documentation and photo collages above.
ARTICLES:
Blouse, Roumaine — Tom Ford, Adele și "IA" de 4900 de dolari, August 9, 2020
Bowles, Hamish — Tom Ford's 2012 Spring Collection, Vogue Magazine, September 11, 2011 
Corduneanu, Ioana — About me 
Galescu, Roxana — IIANA, eleganță cu influențe tradiționale, Fashion Premium Magazine, January 19, 2019, 
Maize, Laura Kathleen — They said/We said: Tom Ford's Spring 2012 collection photos are finally released to the public. What say you?, Fashion Magazine, November 18, 2011
Moldovan, Medeea — Gypsey Vest – cojoc tradițional românesc, made in India, vândut de un brand celebru la un preţ exorbitant, November 19, 2018
Neblea, Andreea —

Cum a ajuns cojocul românesc să fie made in India şi vândut de un brand celebru la un preţ exorbitant, Adevărul newspaper, November 19, 2018

Phelps, Nicole — Jean Paul Gaultier Spring 2006 Ready-to-Wear, Vogue Magazine, October 4, 2005
Phelps, Nicole — Valentino Spring 2015 Couture, Vogue Magazine, January 28, 2015
Tănăsescu, Andreea — Interview IQads, April 28, 2016
* Founded in Excellence and Expertise — Christine Valmy website
PHOTOS:
New York Times Archive
National Congress Library