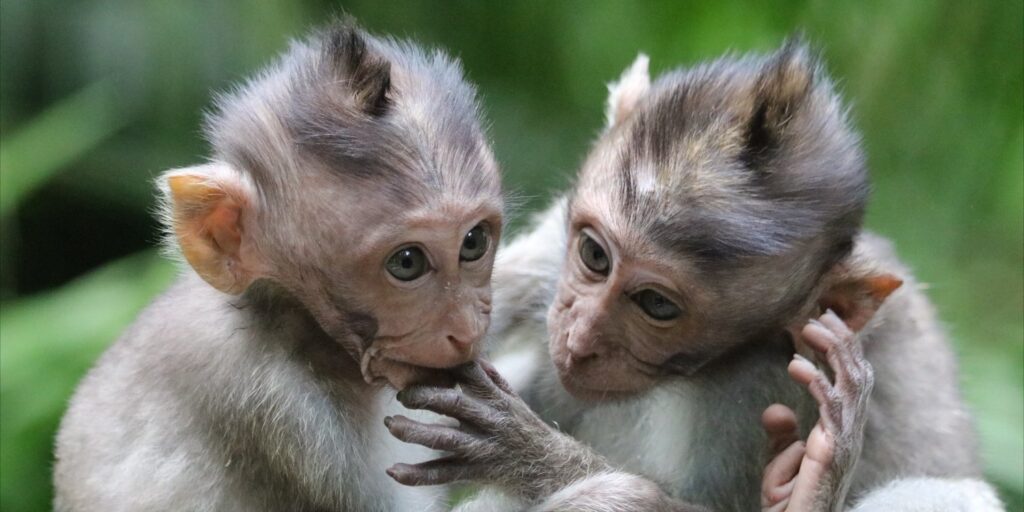 The macaques rule over the 12.5 hectares of the The Sacred Monkey Forest Sanctuary in Ubud, Bali. It's the kind of place where you can spend a full day without getting bored. And how can you get bored when there are hundreds of naughty macaque monkeys of all ages, jumping all around always looking for something to do?
The Temples of the Monkey Forest
As one can imagine, The Monkey Forest is one of Ubud's main attractions. The local Balinese refer to the site as the Padangtegal Wenara Wana or the Padangtegal Monkey Forest.  The Balinese have been using this sacred site for over 700 years.
Located in the village of Padangtegal, the Monkey Forest is an important spiritual, economic, educational, and conservation center for the village. The Ubud Sacred Monkey Forest Sanctuary consists in three temples (referred to as Pura), the Pura Dalem Agung, Pura Beji, and Pura Prajapati which are surrounded by forests. Balinese people pray in the altars of these temples in the Monkey Forest and give offerings to the gods. The Monkey Forest is considered sacred among the Balinese people, as are the macaques that live at forest.
Around 700 monkeys and 186 species of trees
As currently estimated, there are around 700 monkeys living in The Sacred Monkey Forest Sanctuary.  They are divided into 6 groups, each one of them consisting of 100 – 120 monkeys:
infants (0 – 1 year)
juvenile 1 (1 – 2 years)
juvenile 2 (2 – 4 years)
sub adult male (4 – 6 years)
adult female (> 4 years)
and adult male (> 6 years).
These macaques are also completely used to humans and interact with the staff and tourists who visit the forest. There are plenty of stories about how monkeys can be very aggressive, stealing things and even injuring visitors. My experience with them is different, yet I was careful about not having with me shiny objects, sunglasses, or other things that might get the macaques interested in.
The forest has 12.5 hectares and there are 186 species of trees growing all over the place. To this date, about 115 tree species have been identified.  The macaques at the site have been observed eating the flowers, fruits, leaves, nuts, and seeds of these trees.  The Balinese people also use some of these plants for their medicinal properties or for ceremonial purposes.
The Macaque Family
The type of monkeys that live in The Sacred Monkey Forest Sanctuary are known as the Balinese long-tailed monkeys or simply Macaques. Their scientific name is Macaca Fascicularis. This type of primate is active during the day and rests at night. This is quite obvious once you take a long walk on the alleys of the Monkey Forest.
On a personal note, I must confess that I've witnessed some really touching moments with the macaque families. The pictures below are self-explanatory!
The Baby Macaque
You'll see many baby macaques in the Monkey Forest and their games are great to watch! You'll also see them hanging by older monkeys while being carried from one place to another.
The pregnancy takes about 6 months and generally 1 infant is born. Twins are a rarity. Macaque babies stay with their mothers for around 10 months and thereafter they will be weaned to live independently.
Female macaques are extremely careful about their babies. It is also known that even female monkeys who are not the parents are also involved in keeping the babies safe and sound.
The average weight of female monkey is 2.5 – 5.7 kg and male monkey is 3.5 – 8 kg. The lifespan of male monkey up to 15 years, while for the female monkey is up to 20 years.
The Macaque's temptations – bananas and corn
The Macaques are omnivores and in the Monkey Forest of Ubud, their main food is sweet potato, given 3 times a day and combined with banana, papaya leaf, corn, cucumber, coconut and other local fruits and vegetables. Yet, as you'll see, the macaques do love corn and bananas!
Macaques have fun
Here are some of my favorite macaques pics. I just hope you'll like them! And if you do, just leave your comments below.
Note: This article was written for and published on Discovery's Pets of Champions. Pictures have been taking during my trip to Bali and cannot be used in any way without prior written consent.