To me the beautiful Romanian IA or La Blouse Roumaine, as some of you may know it, it's not just a fashion icon. For me, IA is a part of me! It's a way of being connected with the DNA of the Romanian people. Wearing it is one way of preserving the heritage left by those who came before me. IA mirrors all our life experiences — the history, the traditions and most profound beliefs, our entire history. My Romanian IA is who I am!
My friends know how much I love my Romanian IA. I've been wearing them for years, whether at a business meeting, social event, wedding or when going out with my friends.
I'm not sure exactly when I fell in love with my Romanian IA or why. It might have happened the first time I laid my years of the old picture of my grandparents wearing their Romanian traditional costumes on their wedding day. As well it might have happened during high-school years when I was reading Queen Marie of Romania's memories. It's not even important, I think.
The Romanian IA
This traditional blouse represents the main element of the Romanian folk costume. Worn by women, originally the IA was made from a homespun material either white linen or cotton. Later on, the blouse was manufactured from different materials such as silk or "borangic". The intricate details of the embroidery bear the weight of numerous popular Romanian motifs, patterns and mystic symbols. Nothing is at chance, at least not when it comes to truly authentic or vintage IAs. They are directly linked with the traditions and specificity of the region the IAs were made. Therefore, the cut, the embroidery and even the colours on the IAs differ from one region of the country to another. Truth to be told, there are embroidery elements shared across different regions of the country. And from a cultural identity perspective, I would say, these common elements brings it all together. They unite us in one country.
One might say the IA comprises the life and history of the people living in that region. Put together IAs tell the story of the Romanian people.
Marie of Romania & a blouse fit for a Queen
Marie of Edinburgh (1885-1938) or Missy, as her dear ones used to call her, was the fifteenth granddaughter of Queen's Victoria, wife of kind Ferdinand of Romania, sister of Alexandra of Russian and one of the greatest ambassadors my country ever had.
I came to this country at very young age, yet I became one of you. Queen Marie of Romania
Queen Marie brought the world's attention on the beautiful Romanian folk costumes not just by writing about it, but also wearing them and inspiring the same love she had for it to her children. Here are just some of the pictures she had taken of herself and her children wearing these awesome Romanian traditional costumes: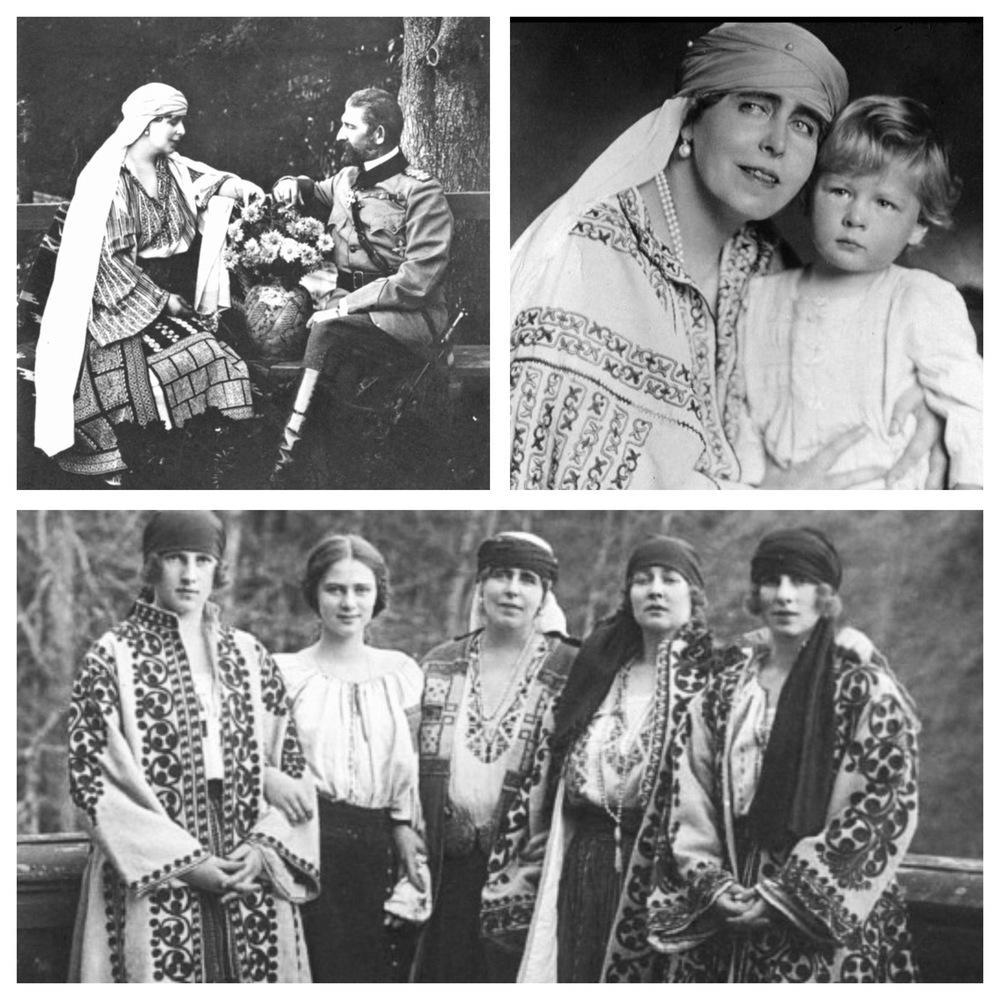 Queen Mary – English by birth, Romanian by heart
Twenty-three years have I now spent in this country, each day bringing its joy or its sorrow, its light or its shade; with each year my interests widened, my understanding deepened; I knew where I was needed to help. (…) I want only to speak of its soul, of its atmosphere, of its peasants and soldiers, of things that made me love this country, that made my heart beat with its heart. I have moved amongst the most humble. I have entered their cottages, asked them questions, taken their new-born in my arms. Queen Mary of Romania
These are some of the opening lines from Queen Mary's book called "My Country".  Her thoughts reveal a woman who got to know now her Romanians in a way like no other. That's who she was … the most loved queen by the Romanian army. It was a love that grew step by step not on the grounds of the official relationship between a sovereign and militaries, but on courageous deeds of war. One could not help admire her taking care of the wounded soldiers, cholera and typhoid sick people. She did not care about the danger she exposed herself and risked her life without hesitation.
Communist regime's historians did their best to diminish her role and influence in shaping Romania's future, and maybe for a while they succeeded, yet their victory did not last long. Probably one of the reasons had to do with our grandparents who opposed the regime the way they knew best… by keeping alive the memory of the heroes and history as it happened, although they had to whisper it to their children. Here's a short British Pathe interview from 1934 with Romania's most loved queen. As you'll see, the Romanian IA is always there!
Queen Marie once wrote, "I came to this country at very young age, yet I became one of you". And she really did that despite all shortcomings and distrust she experienced because of it. She lived and breathed Romanian. Nowadays, her heirs are trying to give her back the place she deserves among the great Romanians.
Henri Matisse's IA
The French painter Henri Matisse is known as one of the first to capture the beauty of the Romanian ie. Simply called La Blouse Roumaine is an oil-on-canvas painting dated 1940. It measures 92 × 73 cm and is held at the Musée National d'Art Moderne in Paris.
It took Matisse few years to show the world his Romanian paintings. There were hundreds trials and sketches before there was a Romanian blouses collection.
Few know that Matisse's Romanian paintings were inspired by a collection of traditional blouses he received as a gift from Theodor Pallady, one of most famous painters, whom he had been friends with for many years.  Matisse and Pallady met around 1892, in Paris, in Gustave Moreau's studio were they were working along with Georges Rouault and Albert Marquet.
Matisse's interest in oriental themes first emerged in the 1920s when he began to express an interest in the interplay of ornamental patterns. This fascination with decorative designs is seen in these works and it will remain with Matisse till the end of his life.
Matisse and Pallady's friendship lasted a lifetime. What neither one of them imagined is that their admiration for our national blouse will turn years later Romanian IA into a fashion icon… and that's my next story all about … And it's called La Blouse Roumaine and Henri Matisse.