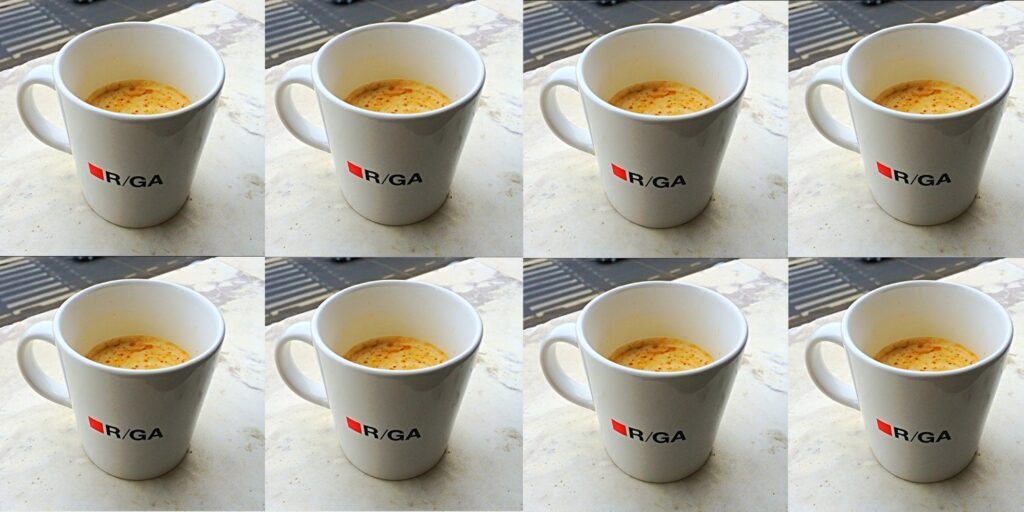 R/GA Bucharest – a great bunch of gals and guys passionate about digital, loving to work and have fun together.  Today we are 12 people: six front-end developers, one back-end developer, three QA engineers, a Human Resources Manager and a General Manager.
Some of us have been with R/GA Bucharest since 2010; some left us, but they do not have time to miss us, as we still go out together; some moved to R/GA London, but we keep in touch as we work on the same projects.
Colleagues we want on board

We plan to grow the smart way, namely step by step and making sure we bring on board people who share our values—passion, fairness, competitivity and pragmatism.
We do not create or build projects for the sake of the project, craft or specific technology, but for solving real business problems or making making users' life easier.  We have a multi-disciplinary approach for any project we take and we make the best use of our global network experiences and resources.
R/GA—for the connected age, so it's only natural that we are always looking for like-minded people—whether they are front-end, back-end developers, QAs, but we do appreciate a lot those creative guys and gals, open-minded, with an eye for "the next big thing", mastering those tools or technologies we don't, not afraid of taking risks or doing the things that haven't been tried before.
Innovative projects & new technologies

Besides having fun together, there's a lot of work to be done and we do take it seriously, yet we know how important it is to maintain a good work-life balance, so we do pay attention to this. We try to keep meetings short and listen to good music…
Chances of working for brands such as Google, Microsoft, VOLVO, McDonald's, Nike, Heineken, Johnson & Johnson, Unilever do not come very often, but we are very lucky from this point of view. We get to do things others do not even dare to dream of. Unfortunately, we cannot publicly communicate about the projects we currently work on… you know how confidentiality works!
Everything we do is powered by technology, which, along with design, has been essential to our legacy as a creative leader for more than 30 years. We believe in a creative use of technology and following someone else's footsteps may not necessarily be the best option, so we favor explorators… people who are comfortable trying and testing  new technologies, connecting devices, staying close to creative tech minds.
Quality above all
Quality is an important attribute of all R/GA delivered solutions –  that's is why our QAs play an important role at R/GA.
They share the company's values too: they are curious, they dare to do things differently, they have a "Show, don't tell" attitude while working towards making sure R/GA's vision turns to reality – enriching people's lives with everything that we do. They enjoy their work and strive to get better at it, every day.
From a technical perspective, R/GA's QA engineers are involved in all the phases of the product design and build cycle and they need to be ready to dive into both automated (using Cucumber and Webdriver technologies) and manual testing for covering functional as well other non-functional quality criteria, like for example usability, performance or security.
Awesome team & chill atmosphere
If you wonder what we do for fun, you should know that every Friday we taste a new type of beer at our Beer Club gathering. From time to time one or two of us cook for the entire team, but cakes and sweats are a must almost every day. We often have breakfast altogether.
Our Bucharest office is located near Victoria Square, in DBH building (Buzesti 50-52), so Thalia restaurant is one of our favorite places to have our lunches … and with spring coming, we expect to go out after work more often to have a drink, laugh and have a great time.
39 international awards and counting…
Besides having fun together, there's a lot of work to be done and we do take it seriously, yet we know how important it is to maintain a good work-life balance, so we do pay attention to this. We love agile, we try to keep meetings short and listen to good music.
We are extremely passionate about what we do and we do it really well. Only in 2014 the projects R/GA Bucharest worked on with colleagues in other offices brought R/GA 39 international awards.
Knowledge sharing
Knowledge-sharing is a must have, so we're present at different local industry events or Headlines, our weekly R/GA tech meeting where latest technologies are put under microscope. That's why you'll see us at Bucharest Frontend meetup, Tabara de Testare, JSCamp, SmartWeb, HowToWeb/StartUp Spotlight, WIAD and many more.
We also read a lot, experience and write about technology and digital stuff  for TheStage, TechBlog, CTRL-D.ro, and many other publications. You can have a look here:
If you want to find out more about R/GA, please visit R/GA.com, R/GA Tech blog, R/GA Accelerator
Joining R/GA Bucharest
Now that you have an idea of what's like working with R/GA and you want to give it a try, you can send your CV at [email protected]. You'll hear from me within next 24 hours.
P.S. This post has been written, edited and commented by the entire team at R/GA Bucharest. It took us some time to do it, but we hope it gives a good idea about who we are and what we do together.